At Camelot, our pricing is tiered offering different price options for our customers.  The prices listed below are our starting prices; customers with longer and / or thicker hair will incur extra charges for additional product and stylist time. Please use our pricing information below as a guide and inquire at booking or with your stylist prior to the start of your service if you have any questions or concerns.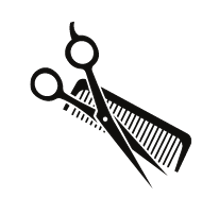 HAIRCUT SERVICES
Haircuts | Includes shampoo and complimentary conditioning, design haircut and blow dry 
Starting at:
– Women | $45-$75
– Men | $26-$35
– Girls Age 5 through 12 | $23-$30
– Boys Age 5 through 12 | $19-$30
– Children under Age 5 start at $10
– Bang Trim | $8
Additional styling with hot tools, such as flat iron or curling will incur an add on cost.
-Haircut with Hair Donation | 50% off Stylist Haircut Price
We are proud to be a participating salon of Children with Hair Loss.  Customers who choose to donate their hair that meets length and condition requirements of Children with Hair Loss will pay 50% for their haircut, and we will cover the other 50% as our way of saying thank you!
If you have questions about pricing, we encourage you to discuss this prior to your service with your stylist or schedule a complimentary consultation in advance of booking your hair appointment.